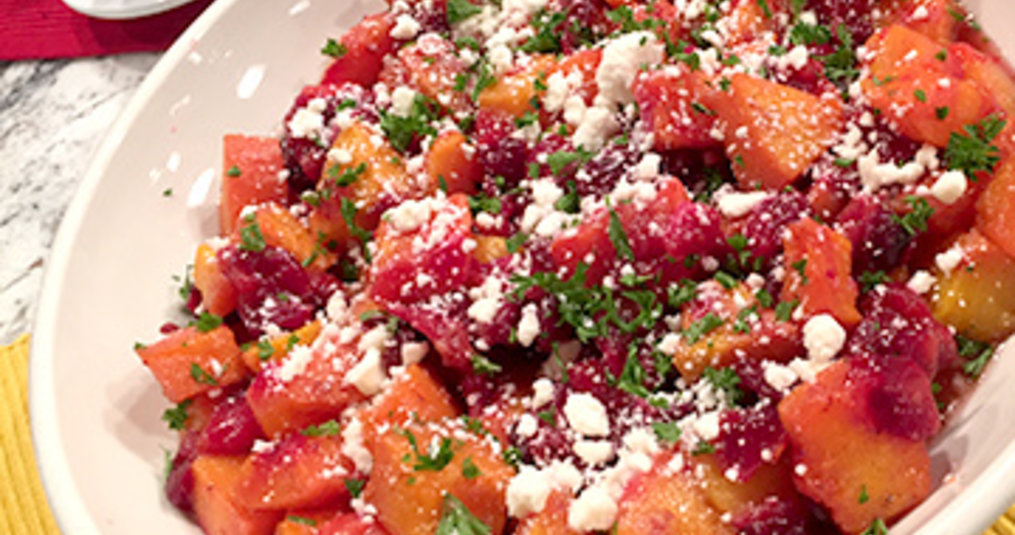 Bring something new and fun to the table for the holidays with this unique and scrumptious side dish!
Roasted Butternut Squash with Cranberries
Courtesy of Maudine Thomas
Ingredients:
1 Butternut Squash, peeled and cubed 
3 T Olive Oil
1/4-1/2  tsp. Salt
1/4 tsp. Pepper
1/2 tsp. Garlic Powder
1/2 tsp. Cinnamon, ground
2 C Cranberries, fresh
2-4 T Maple Syrup or Honey
1/4 C Feta Cheese, finely crumbled to Garnish
Fresh Parsley, chopped to Garnish
Directions:
Preheat oven to 400F.

In a medium mixing bowl, toss cubed squash with Olive Oil.

Pour onto a greased baking sheet and sprinkle with salt, pepper and garlic powder.

Roast on the center rack of the oven for 25 minutes.

After 25 minutes, add the fresh cranberries to to roasting pan.

Return to the oven for 10-15 minutes or until the cranberries have softened and started to burst a bit, resembling really juicy craisins instead of fresh firm cranberries.

Remove from oven and transfer into a serving bowl.

Carefully stir in maple syrup and cinnamon.

Garnish with feta and parsley. Serve hot.