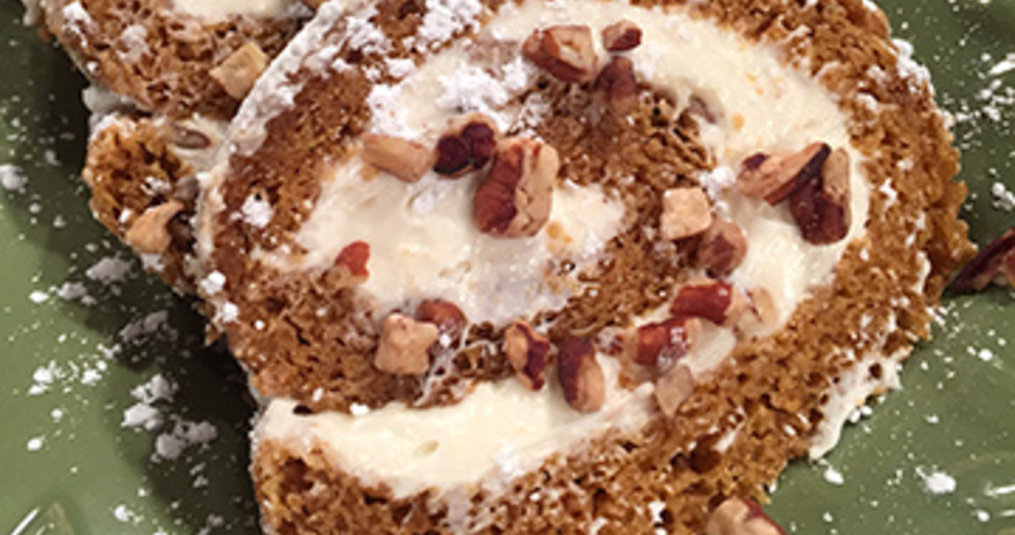 More holiday deliciousness with these amazingly dilectible delights!
Pumpkin Roll with Maple Cream Cheese Filling
Courtesy of Maudine Thomas
Use our Pumpkin Pie Spice Recipe that accompanies our Easy Pumpkin Spice Waffles recipe!
Ingredients:
2/3 C Pumpkin Puree
3 Eggs, room temperature
1 C Granulated Sugar
1 tsp. Vanilla
2 tsp. Pumpkin Pie Spice
3/4 C All-purpose Flour
1/2 tsp. Baking Powder
1/2 tsp. Baking Soda
1/4 tsp. salt
1/4 C Powdered Sugar (to sprinkle on towel) plus more for garnish if desired.
Baker's Joy non-stick baking spray
8 Ounces Cream Cheese, softened
6 Tbsp. Butter, softened
1 T Maple Syrup
1 T Heavy Cream
1 C Powdered Sugar
1 C Pecans, chopped (optional)
Directions:
Heat oven to 375F. 

Spray a 15" by 10" Jelly Roll pan with Baker's Joy or line bottom of pan with parchment paper. Spray paper with a non-stick baking spray. 

Mix flour, baking powder, baking soda, pumpkin pie spice, and salt in a bowl. Set aside. 

In a large bowl, mix eggs and sugar until they are well blended. Add vanilla and pumpkin puree and mix until well combined. Add flour mixture, stir until well blended, then spread evenly into prepared baking pan. Bake 11 to 13 minutes, or until top of cake springs back when touched. 

Remove from oven and generously sprinkle top of cake with powered sugar. Put a clean kitchen towel over the cake. Using a larger baking sheet, cover cake and carefully turn both pans over so that cake in resting on the towel. Remove jelly roll pan and sprinkle powdered sugar on the cake. Carefully roll cake with the towel inside the rolls. Set aside to cool completely. 

In a medium size bowl, beat cream cheese, powdered sugar, and butter on low speed. Add Maple syrup and heavy cream. Beat on high speed until fluffy, about two minutes.

Carefully unroll cake. Spread the cream cheese mixture on the cake evenly. Sprinkle chopped pecans over filling. Re-roll cake using the towel to help lift cake for a smooth roll. Wrap roll in plastic wrap and refrigerate for at least one hour. Slice and garnish with powdered sugar before serving.