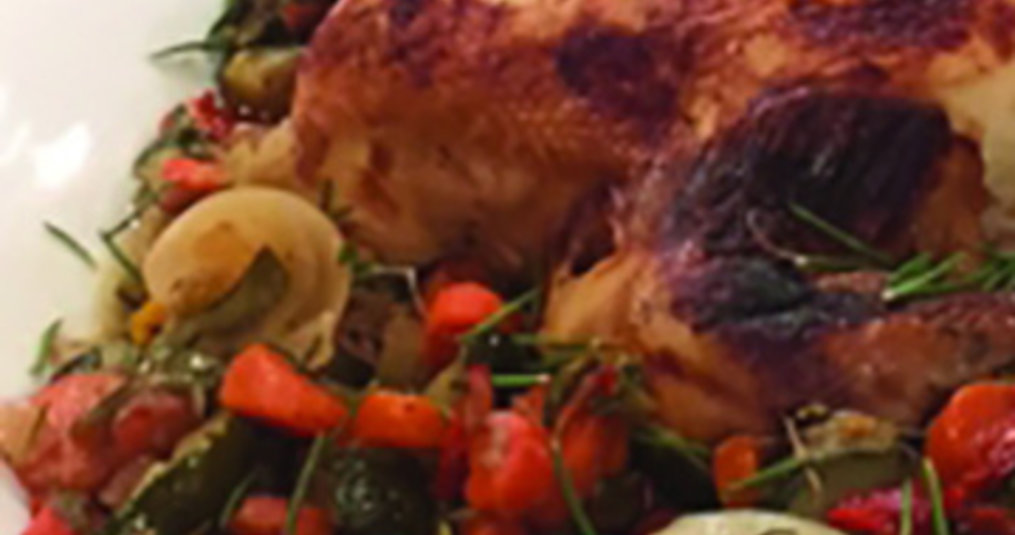 Bring home the holidays with this delightful classic recipe!
Pressure Cooker Whole Roasted Chicken & Vegetables
Courtesy of Maudine Thomas
Ingredients:
1 Whole Chicken (3-5 lbs depending on the size of the pressure cooker.)
1 Cup Chicken Broth
2 Bags of Frozen Vegetable Medley Mix (Any variety will do, pre-seasoned or flavored works great!)
1 Sprigs Fresh Rosemary 
1 Medium Onion, cut in half
Salt and pepper to taste
Directions:
Use either a Silicone Pressure Cooker Sling (OXO Good Grips,) or make a foil sling to remove the whole chicken from the pressure cooker when it is done. Tear off a piece of heavy duty foil that is about 14-16 inches long. Fold into thirds lengthwise to make a long strip of foil. If using the foil sling, put a 1" high trivet in the bottom of the pressure cooker.  

Pour broth into pressure cooker. Season chicken with salt and pepper inside and out. Place Rosemary and onion in the inside cavity of the chicken.  Place chicken on the sling and place in the pressure cooker. Take one bag of the frozen vegetable mix and pour into the cooker on top of the chicken. Save the second bag of vegetables for later.  Put lid on pressure cooker and lock in place. 

Cook on high pressure for 30 minutes. Naturally release pressure by turning off the heat and let pressure cooker cool for 10-15 minutes.  Open valve to release remaining pressure.  

Open the lid and remove the chicken with the sling.  Return any vegetables that are on the chicken as well as the second bag of vegetables to the cooker, replace lid, close pressure valve and cook on medium heat for 5 more minutes. 

Place the whole chicken on a pan and put in the oven under a hot broiler to brown.  Check chicken often so that it doesn't burn. Open valve of pressure cooker to release remaining pressure, remove lid and plate chicken with the vegetables surrounding it.
Optional:
Remove vegetables and return cooker with the remaining juices and drippings to high heat. Whisk 1/4 Cup flour with 1/2 Cup water together and blend into the remaining juices to make a gravy. Taste to adjust seasoning if necessary. Serve over chicken and vegetables.