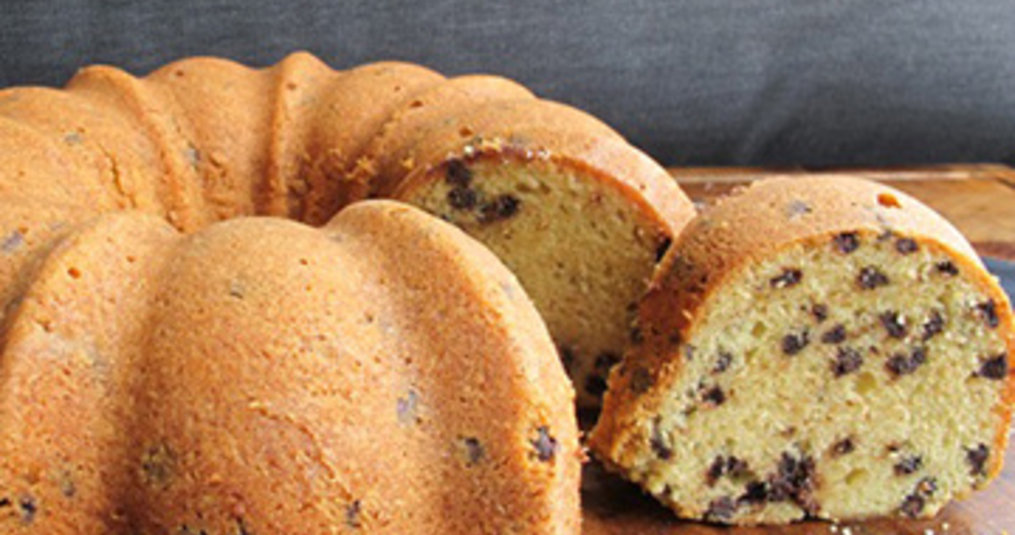 Cozy-up to the holidays with this scrumptious crowd pleaser!
Pressure Cooker Pumpkin Chocolate Chip Bundt Cake
Courtesy of Maudine Thomas
Ingredients:
1½ C All-purpose Flour 
1½ tsp. Ground Cinnamon
1/4 tsp. Ground Ginger
1/4 tsp. Ground Nutmeg
1/4 tsp. Ground Clove
1/4 tsp. Salt
1/2 tsp. Baking Soda
1/2 tsp. Baking Powder
1/2 C Butter (1 stick) softened
1 C White Sugar 
1 C Pumpkin Puree
1 C Mini Chocolate Chips
2 Large Eggs
Directions:
Prepare a half size Bundt Pan (6 cup) by spraying it with a baking spray, (Baker's Joy,) and set aside.  Use either a Silicone Pressure Cooker Sling (OXO Good Grips,) or make a foil sling to remove the pan from the pressure cooker when the cake is done. Tear off a piece of heavy duty foil that is about 14-16 inches long. Fold into thirds lengthwise to make a long strip of foil. If using the foil sling, put a 1" high trivet in the bottom of the pressure cooker.  Add 1 1/2 cups of water to the pressure cooker.  

In a medium bowl, mix the flour, spices, salt, baking soda, and baking powder. Set aside.

Using a hand mixer or stand mixer, cream the butter and sugar until fluffy, about two minutes. Add eggs one at a time mixing well after each addition. Add the pumpkin and mix until well combined. Add dry ingredients and chocolate chips, mixing until just combined. 

Spoon batter into prepared Bundt pan. Cover with foil leaving a dome at the top.  Place covered cake pan in the middle of the silicone or foil sling, pull up sides to securely hold the pan and lower into the pressure cooker. Fold down sides of the foil sling to make it even with the inside rim of pressure cooker and push them against the inside walls of the pan so they don't hang down.  If using the silicone sling, snap the handles of the together. Put the lid on the cooker, bring to high pressure, and maintain for 25 minutes. Naturally release pressure by turning off the heat and let pressure cooker cool for 10-15 minutes. Open valve to release remaining pressure. 

Open lid and use the sling to remove the cake from the cooker. Remove foil cover on the cake and let cool for 10 minutes before removing from pan. Garnish with a melted chocolate drizzle.  Serve either warm or cold.