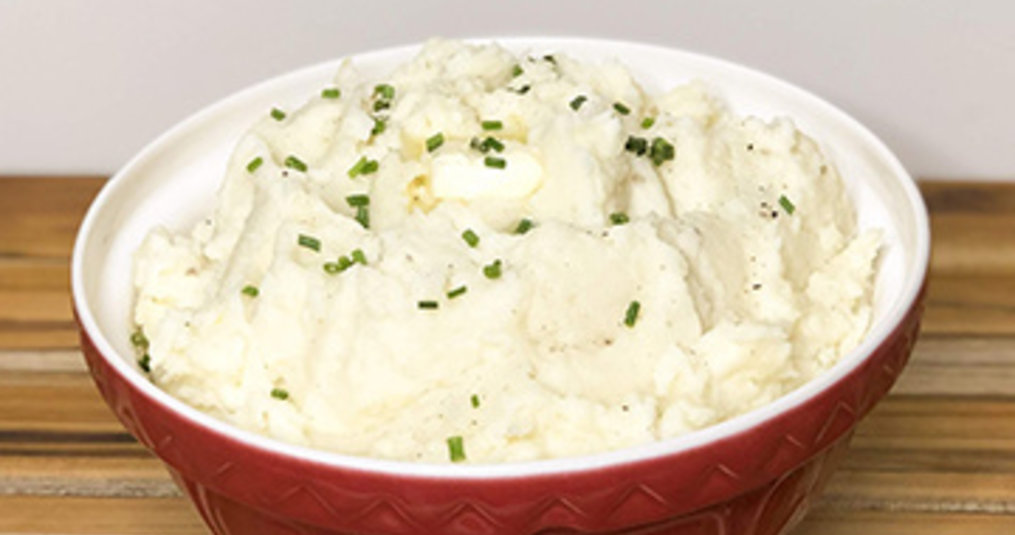 Here's a classic must-have to complete any yummy holiday meal!
Perfectly Creamy Mashed Potatoes
Ingredients:
5 pounds Yukon Gold or Russet Potatoes, peeled
2 T Sea Salt
1 C (2 sticks) Unsalted Butter
2 C Half-and-Half
1 T Garlic Salt
1-2 T Granulated Garlic to taste or 5-6 Garlic cloves, whole, peeled,
Fresh Chives, finely chopped
Black Pepper to taste
Additional pat of Butter for serving
Directions:
1. Place the potatoes in a large pot and add cold water to cover by about 1 inch. Stir in 2 Tbsp. salt. Cover and bring to a gentle boil over medium-high heat. Uncover and reduce the heat as needed to maintain a gentle simmer. Cook until knife tender, testing for doneness at 30 minutes. A sharp knife should easily go through the potato. Larger potatoes may take longer, up to 45 or 50 minutes total. Drain Potatoes into a colander.

Alternate:
Place the potatoes in a pressure cooker. Add 2 C water and 2 Tbsp. salt. Place 5-6 whole cloves of garlic on top of the potatoes. Close lid and bring to high pressure. Maintain high pressure for 13 minutes then turn heat off. Let set for 5 minutes to start naturally releasing pressure, then carefully release remaining pressure. Drain remaining water.
2. While potatoes are cooking, Heat the butter and half-and-half. About 20 minutes into the potato cooking time (or while the pressure cooker is releasing pressure naturally,) melt the butter over low heat in a small saucepan or microwave. Heat the half-and half, garlic salt, and granulated garlic over low heat in another small saucepan or in the microwave until steaming (stir every 30 seconds.) Keep both warm. (If using a pressure cooker with the garlic cloves, omit the granulated garlic.)

3. Using a Potato Ricer, process the potatoes one at a time, back into the pot they were cooked in. (If using the garlic cloves, rice along with the potatoes.) This will cut down on extra dishes and help the potatoes stay warm from the pot's residual heat.

4. Add the hot butter to potatoes, gently stirring with a wooden spoon or spatula to incorporate. When all the butter is absorbed, add the hot half-and-half. It will seem soupy at first, but the potatoes will gradually absorb the liquid and turn into a creamy mixture.

5. Taste and season with more salt and pepper as needed. Spoon into your serving dish and top with optional garnishes, such as a pat of butter or some chopped chives.