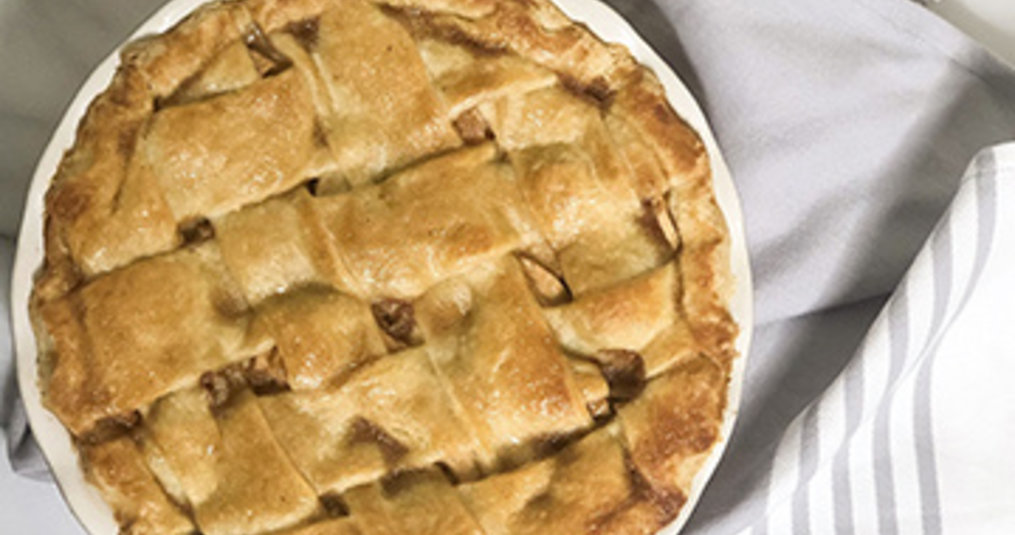 This is a simple, flaky but sturdy, deliciously buttery pie crust!
Perfect Pie Crust
Courtesy of Maudine Thomas
Keeping your ingredients as COLD as possible and not overworking the mix are the two keys to making this simple, flaky but sturdy, deliciously buttery pie crust.
Ingredients:
2½ C All Purpose Flour
2 sticks (1/2 lb.) unsalted butter, COLD and cut into little pieces
1 tsp. Salt
1 tsp. Granulated Sugar
1/4 to 1/3 C ICE COLD water
Directions:
Put all of the ingredients, (mix the flour, salt and sugar together first,) in the refrigerator for at least 30 minutes before making the pie dough. Having everything cold keeps the butter from melting while processing.

Blend ingredients in a food processor until it resembles coarse oatmeal. This can also be done by hand with a Pastry blender or hand mixer. Be careful not to over mix. 

Add 1/4 to 1/3 of a cup of ice cold water very slowly while pulsing the food processor a few times. DO NOT OVERMIX! You should still be able to see small chunks of butter. The dough is ready when it holds together when squeezed, but is still able to be crumbled.

Divide the dough in half and form each half into a flat circle. Wrap tightly in plastic wrap and chill the dough in the refrigerator for at least one hour before attempting to roll out.

When you are ready to make your crust, roll out on a lightly floured surface. Be sure to Flour the rolling pin as well so that nothing sticks. Keep moving the dough around while rolling to keep it from sticking on the bottom surface. Roll out from the middle only applying pressure while rolling towards the edge. Dough should roll easily and maintain a round shape. If it cracks or breaks while rolling, wait a minute for the dough to warm up slightly. If the dough starts to stick, it is too warm and needs to go back into the refrigerator. When the dough forms a circle that is a little more than an inch wider than your pie dish, fold in half, then half again to transfer to the baking dish without ripping. You can also roll the dough onto your rolling pin to transfer. Press the crust down evenly into the pan. Trim the pastry around the edge with kitchen shears about half an inch beyond the pan edge. Fold the excess dough back under the crust to make it thicker around the edges. Use the pointer and middle finger of one hand and the thumb of the other hand to press dough to form a ruffled edge.

Chill dough in the pie pan in the refrigerator for an hour before filling with your pie ingredients and baking.
Blind Baking Pie Crust 
An all-butter pie crust will shrink more while baking than pie crust recipes with other fats. When blind baking a pie crust so that it can be filled with a cream or other filling, it is better to choose from: all shortening with 1 1/2 tsp butter flavoring; 2/3 shortening and 1/3 butter with 1 tsp butter flavoring; or all lard. 
Method 1:
This method is best if you need a pretty edge on your finished crust. After rolling out dough and placing in your pie pan, trim dough and press into desired edge finish. Poke a fork all around just the sides of the crust to prevent bubbling while baking.

Place a piece of pre-cut parchment (9" round for a 9" pie) centered on top of the pie crust and press onto the crust. Use pie weights on top of the paper to weigh down the bottom of the pie. Arrange pie weights in one layer and about 2/3 up the side of the pie pan. Use can also fill 2/3 full with uncooked rice, wheat berries, or dry beans. Refrigerate 30 minutes. 

Preheat oven to 375F. Bake for 20 minutes, remove from oven and remove weights and parchment. Poke crust on the bottom with a fork then return to oven for 15-20 minutes until golden brown. Remove from oven and cool completely before filling.
Method 2:
This method is great if you don't need a fancy edge on your crust. After putting your dough in your pie pan, put a parchment round on the crust and then place a matching pie pan on the parchment. Press down enough to hold the pie dough in place.  Refrigerate 30 minutes.

Preheat oven to 375F. Bake on a cookie sheet upside down for 20 minutes. Gravity keep the sides from shrinking up. Remove from oven. Carefully turn right side up and remove top pan and parchment. Poke a fork all over the crust and return to oven for 15-20 minutes until crust is golden brown. Remove from oven and transfer to a cooling rack. Allow crust to cool completely before filling.