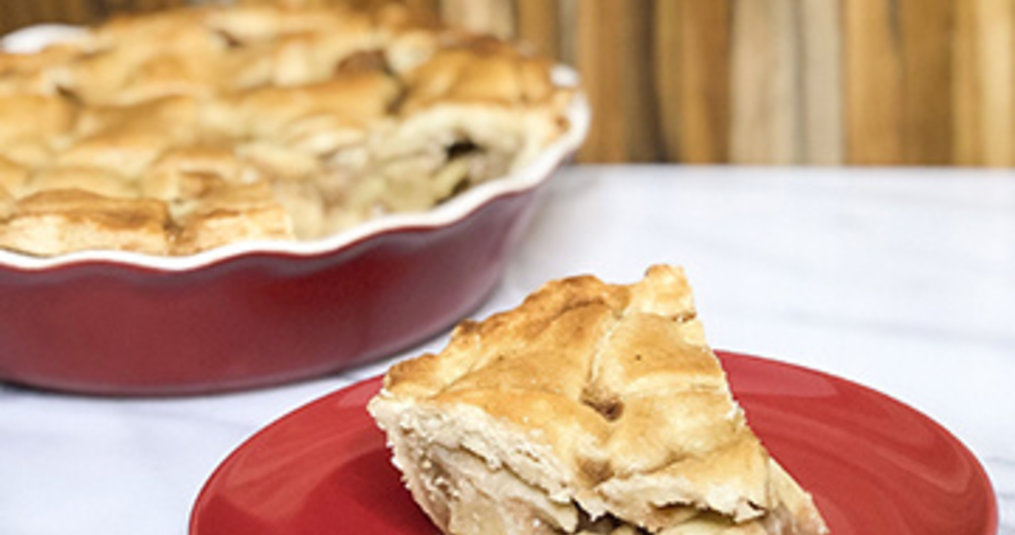 When you think of apple pie, this is the definitive recipe!
My Favorite Apple Pie
Courtesy of Maudine Thomas
Ingredients:
7-8 small Granny Smith apples, peeled, cored, and sliced
1/2 C Butter (1 stick)
3 Tbsp. All-purpose Flour
1/4 C Water
1/2 C White Granulated Sugar
1/2 C Brown sugar
1½ tsp. Cinnamon
1/4 tsp. Nutmeg 
1 tsp. Pure Vanilla Extract
9"-10" Pie pan with crust
Directions
Pre-heat oven to 425F.

Place the peeled, cored and sliced apples in a bowl and set aside. 

In a medium saucepan, melt butter over medium heat. Add flour and mix well, forming a paste. Add water, sugars, spices and vanilla. Mix well, then bring to a boil for 1 minute. Reduce heat to a simmer and cook for 1 minute more. 

Remove pan from heat and reserve 1/3 of syrup for later. Add remaining syrup to apples and stir well to coat every slice. 

Pour apples into prepared pie crust, mounding slightly. Moisten crust edge with water and top with second pie crust, (lattice, cut-outs, etc.) Lightly press edges together then trim excess dough from edges of pie. Crimp or ruffle edges. Brush remaining syrup on top crust with a basting brush. 

With non-stick spray, lightly spray a piece of foil large enough to loosely cover the pie. Cover pie and place on a baking sheet, (to catch any drips.) Place in oven and bake at 425F for 11 minutes. Reduce heat to 350F and bake for 40 minutes. Remove foil and bake for an additional 10 minutes or until crust is golden brown and apples are soft when pierced with a toothpick.

Remove from oven and transfer pie from hot baking sheet to a cooling rack. Let cool completely to thicken apple filling before serving. Pie may be reheated for serving.