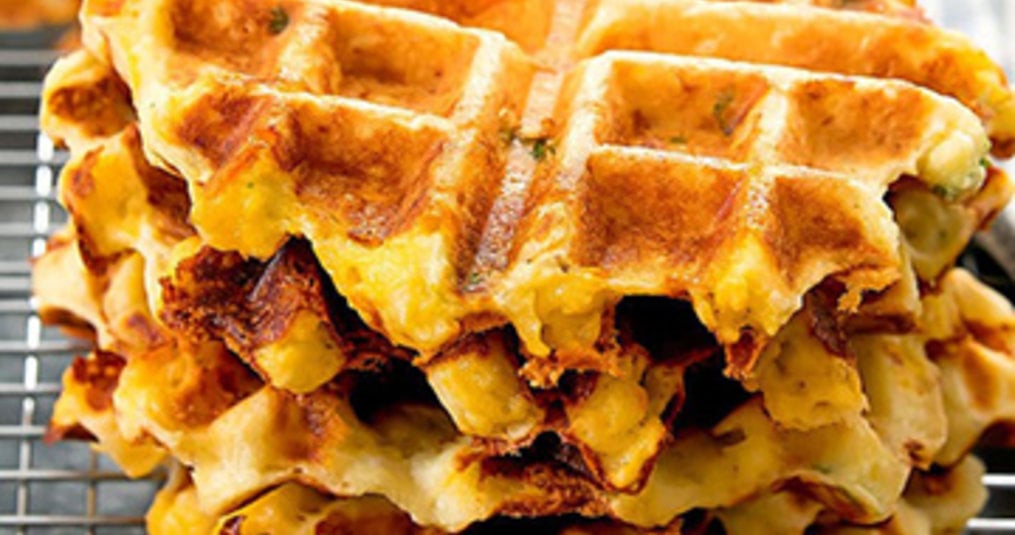 Using leftover mashed potatoes, you can create delicious, pillowy, cheesy waffles. Top them with your favorite baked potato toppings!
Mashed Potato Waffles
Courtesy of Maudine Thomas
Ingredients:
2 T Butter
1 Onion, chopped 
1 Tbsp Garlic, minced
2 C Mashed Potatoes 
1/4 C Flour
2 Eggs
1/4 tsp. Salt
1/4 tsp. Black Pepper, Ground
1 C Cheddar Cheese, grated 
Oil or Non-stick spray
Directions:
Melt the butter in a skillet over Medium heat. Add onions and cook until soft and starting to brown, stirring often. Add garlic and cook for one minute.

Preheat Waffle iron. 

Combine onion mixture, mashed potatoes, cheese, flour, eggs, salt, and pepper in a large bowl until well blended.  Spray or brush waffle plates with oil.

Depending on the size of your waffle iron, scoop 1/4 to 1/2 cup batter into the center of the waffle iron. Close lid. Cook until golden brown, about 3 to 5 minutes.