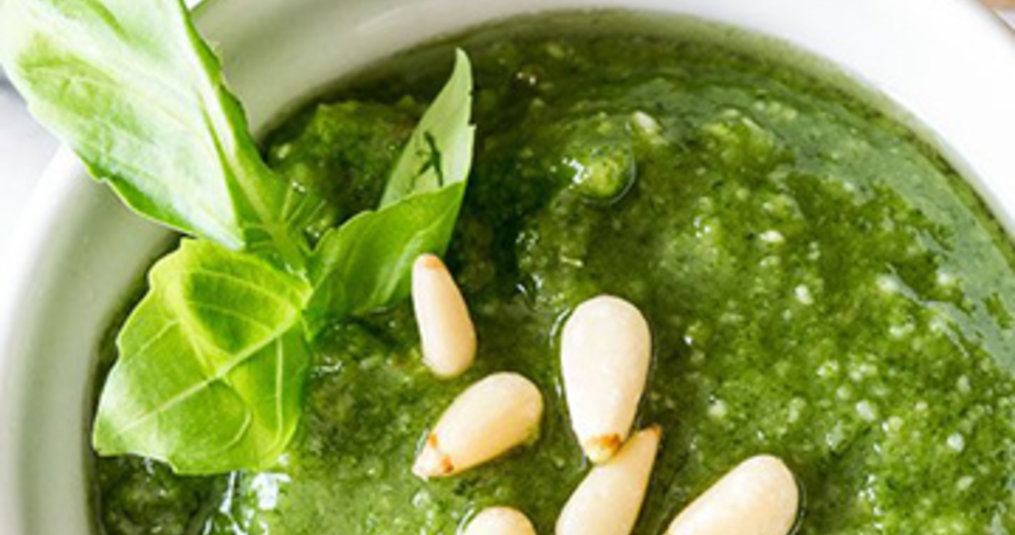 Easy, delicious, and amazing homemade pesto!
Fresh Basil Pesto
Courtesy of Maudine Thomas
Ingredients:
2 C Basil, fresh leaves, packed
3 Garlic cloves, minced (1 Tablespoon)
1/3 C Pine Nuts*
2 T Lemon Juice, fresh
1 T Lemon zest
1/3 C Olive oil
1/3 C Romano or Parmesan cheese, grated
Directions:
Place Basil leaves and pine nuts in bowl of food processor and pulse several times.

Add garlic, cheese, lemon juice and zest. Pulse several more times and scrape down the sides of the food processor bowl with a spatula.

While the food processor is running, slowly add olive oil in a small steady stream. Occasionally stop to scrape down the sides of the bowl. Continue until all of the oil is added and the mixture is evenly mixed.

Add salt and pepper to taste.
Store in an airtight container with plastic wrap touching the top of the pesto to prevent darkening.
Variations:
One cup fresh baby spinach can be substituted for one cup of the basil leaves. Doing this increases the nutritional content by adding more Iron and brightens up the flavor.
*Any type of nuts may be used instead of Pine nuts.