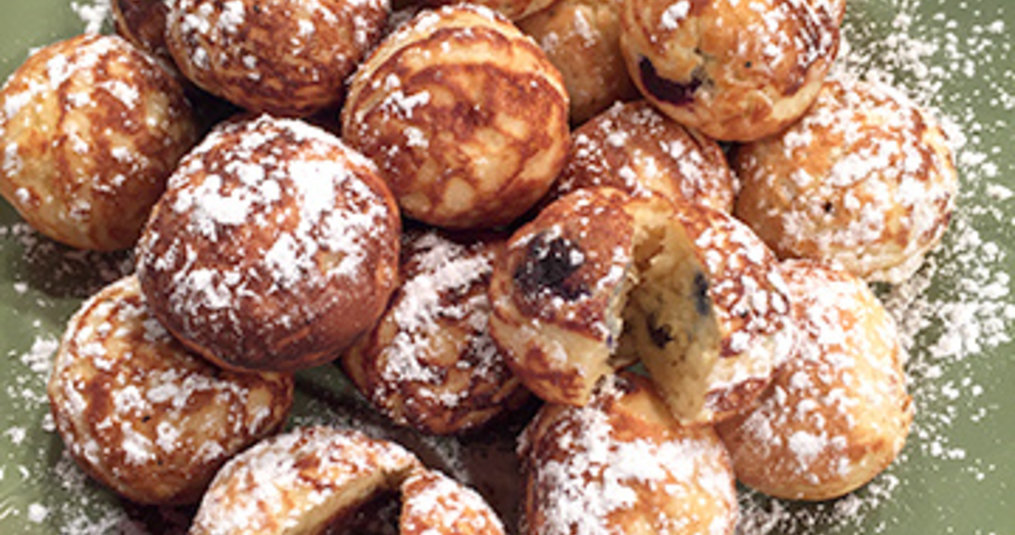 This classic Danish delicacy will win-over the hearts of adults and children alike!
Ebelskivers - Filled Danish Pancake Balls
Courtesy of Maudine Thomas
Ingredients:
1¾ C All Purpose Flour
3/4 tsp. Baking Soda
1 tsp. Baking Powder
1½ T Granulated Sugar
1/2 tsp. Salt
3 Eggs, separated
1¾ C Buttermilk
4 T Unsalted Butter, melted
Filling (see below)
Powdered Sugar for dusting
Maple Syrup for serving
Add'l Butter for greasing pan
Directions:
In a bowl, whisk together flour, baking soda, baking powder, granulated sugar and salt. 

In a small bowl, lightly whisk together  egg yolks and buttermilk. Whisk the yolk mixture into the flour mixture until just combined. The batter will be lumpy. 

In another bowl, using an electric mixer fitted with the whisk attachment, beat the egg whites on high speed until stiff but not dry peaks form, 2 to 3 minutes. Using a rubber spatula, gently fold the whites into the batter in two additions. 

Put 1/2 tsp butter in each well of a filled-pancake pan. Place over medium heat and heat until the butter begins to bubble. Pour batter into each well to about ⅔ full.  Cook until the bottoms are golden brown and crispy, 3 to 5 minutes. Using 2 wooden skewers, flip the pancakes over and cook until golden and crispy, about 3 minutes more. Transfer to a plate. Repeat with the remaining batter.

Dust the pancakes with confectioners' sugar and serve.
Optional:
Ebelskivers can be filled with any jam, Nutella, chocolate chips, fresh berries, or any other delightful item you wish.  Reduce the batter to fill ⅓ up each cup. Let cook for 2 minutes then add 1 tsp. filling to the center of the batter. Top with about 1/3 more batter to cover the filling.  When the batter is fully cooked on the bottom, carefully turn the pancake over. Finish cooking and remove from pan.  

Spiced Apple Ebelskiver Filling
Courtesy of Maudine Thomas
Ingredients:
1 T Unsalted Butter
3 T Light Brown Sugar, firmly packed
3 Granny Smith Apples, peeled and grated
1/8 tsp. Ground Ginger
1/8 tsp. Ground Cloves
1/8 tsp. Freshly Grated Nutmeg
1/4 tsp. Ground Cinnamon
Juice of 1/2 Lemon
Directions:
In a fry pan over medium heat, cook the butter, brown sugar, apples, ginger, cloves, nutmeg, cinnamon and lemon juice for about 20 minutes. Stir frequently to prevent scorching. Drain off any liquid. 

Fill the preheated and buttered Ebelskiver pan wells 1/3 of the way with batter. After Ebelskivers cook for 2 minutes, add 1 tsp. filling to middle of each pancake. Top with about 1/3 more batter to cover the filling. Allow to cook for 1 to 2 minutes more and flip with two skewers. Cook about 3 minutes on the other side and remove to cool.