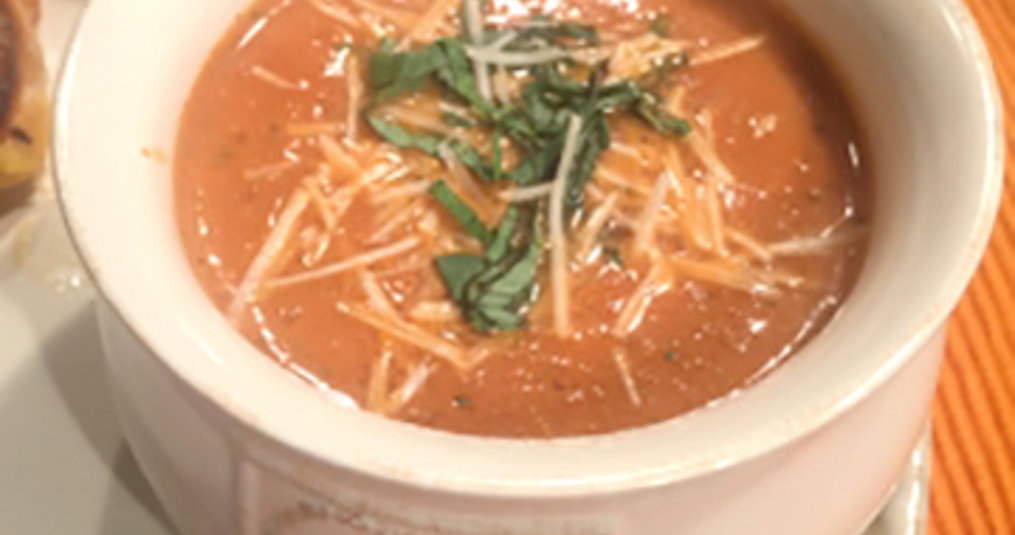 Warm yourself up with this incredibly satisfying soup!
Creamy Tomato Basil Soup
Courtesy of Maudine Thomas
Ingredients:
3 T Olive Oil
1 Red onion, large, finely chopped
1 Clove Garlic, finely minced
1-28 oz can Crushed Tomatoes
4 C. Chicken Stock
1 tsp. Kosher Salt (or less to taste)
1/2 tsp. Pepper, fresh ground
4-5 T Pesto
1 C. Heavy Cream
Fresh Basil for Garnish
Parmesan cheese for Garnish
Directions:
Heat olive oil over medium heat in a dutch-oven or large pot. 

Add onions to hot oil and season with half teaspoon salt. Cook the onions until soft and starting to brown, about 10 minutes. Add garlic and cook for one minute more while stirring to avoid burning the garlic. 

Stir in the tomatoes, chicken stock, pepper, and pesto. Bring to boil then reduce heat to simmer for at least 15 minutes, stirring occasionally. 

Puree mixture using an immersion blender or carefully transfer soup to a blender.  Return soup to the pot on low heat.  

Stir in cream and taste to adjust seasoning. Simmer for 15 minutes or longer to reduce down to a thicker consistency.  

Serve garnished with grated Parmesan cheese and fresh basil leaves.