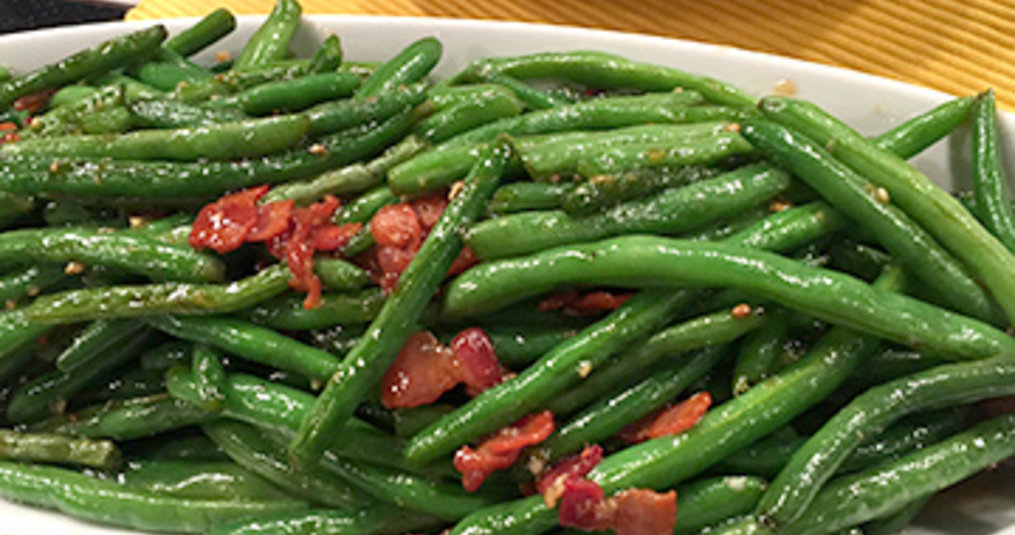 These. Are. So. Incredibly. Good!
Brown Sugar Green Beans With Bacon
Courtesy of Maudine Thomas
Ingredients:
2 lbs green beans, fresh, ends trimmed
6-8 strips bacon, raw, sliced into small pieces
2/3 C Brown Sugar
1 T Dijon Mustard 
1 T Garlic, Minced
Salt and pepper to taste
1/2 C Water
Directions:
In a large skillet with a lid, brown bacon pieces over medium heat. Remove bacon from pan and set aside leaving the bacon drippings in the pan.

Add the green beans, salt, pepper, and water to the pan. (pour the water through the beans so fat doesn't burn you.)  Cover with lid. Let the green beans steam for 8-10 minutes until still firm but able to pierce with a fork.

Remove lid and push beans to the sides of the pan. Add brown sugar, Dijon, and garlic to the bacon drippings in the center of the pan and stir to combine. Cook while stirring the sauce for 2 minutes then add the bacon back to the pan.

Stir well to coat the beans with the sauce and cook until beans reach the desired tenderness. (If sauce has gotten too thick to coat the beans, add another 1/8 C water.) 

Transfer beans from the pan to a serving dish. Be sure to scrape down the pan to get every drop of sauce!